Just got home from a weekend outside of Uddevalla where the shred-family Hoppe just had their yearly contest. The weather was epic and the riding even sicker so I'm stoked to have flown home for this event! I saw so many people I haven't seen in ages and even though I haven't ridden cable since back in Australia (except for a couple of laps with the awesome crew at glasfryn wakepark) it was so much fun.
Contest vice I got my butt kicked by the rest of the girls and the level has gotten so high with Judith Hoppe (the youngest in the Hoppe family) throwing sick S-Bends and Tantrums and Malin Rapp sticking an S to Blind!! Anna Simlund, the swedish cable champ, got one of the gnarliest crashes I've ever seen on cable on a backmobe but she was close and I was stoked on getting my Blind Judge back. I was stoked to be hanging out with my friend Trudi again after having a great time at wakestock and she absolute killed the transfer box but unfortunately we both rode really bad in the finals. I guess it's hard to keep up with both boat and cable at the same time. The winner this year was Malin and she well deserved it!
Pro Womens Podium was:
1. Malin Rapp
2. Judith Hoppe
3. Anna Simlund
When it comes to the guys I have no words. This was without a doubt the sickest cable contest I've ever been to with people throwing double flips like they were pealing bananas. Mattias doing his whirly dick, Jeremia double mute halfcab roll and Benjamin double S-bends. But except for the home boys riders like Steffen Vollert, Nico Von Lecrhtenfeld and FelixGeorgii  (who all rode wake the line and Felix won the pool gap at wakestock) were there along with my beloved Team T-shirt from Denmark. Watching the finals was pure pleasure. I was so happy I wasn't juding the finals of pro men but the podium looked like this:
Pro Men:
1. Nico von Lerchenfeld
2. Benjamin Hoppe
3. Felix Georgii
I dug up my judging skills in some of the other classes though and judged, amongst others, the Open Mens category. Even here the level was sick with three different riders landing 7's! In the end Nick Johnson was the winner after an amazing clean run and since he just turned 18 we sprayed him down with 3 bottles of champagne. Open Men finished like this:
Open Men:
1. Nick Johnsson
2. Christian Forsten
3. Joakim Olsson
I'm stoked the amount of girls actually stepping up and competing is growing. There were so many good riders in the Open Womens category throwing inverts of the kickers. In the end Susanne from Denmark was the winner but the podium looked like this:
Open Womens:
1. Sussanne Friis
2. Malin Simlund
3. Isabelle Öblom
The rest of the results and a lot of pictures can be found on WCPE's facebook site which is here: LINK 
Except for the wakeboarding there was also a sick amount of stunts going on with the snowboard/skiing rail jam, the water jump and the beach volleyball tournament, not to mention the after party! I loved that BetSafe was sponsoring this year and gave people the opportunities to bet on the riders. I was ranked as 3rd on the girls side with the odds 4:1 after Anna and Judith. (I hope you didn't bet on me this time 😉 ).
It was so great seeing everyone again and a huge thanks to everyone who made this comp so sick! I can't wait to be back next year!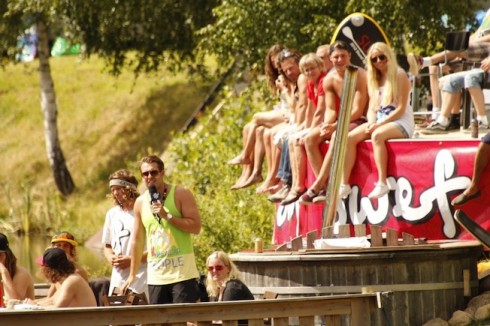 Love!