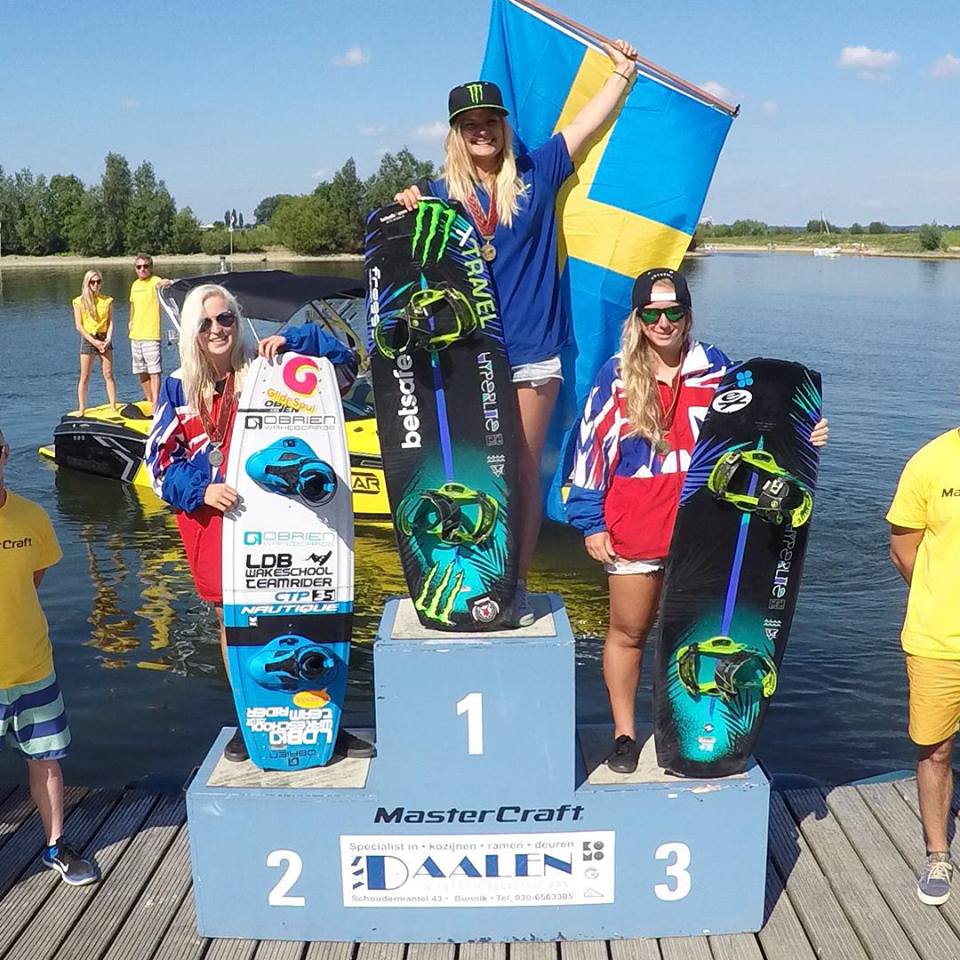 Now I'm back home again after claiming my fourth European title this past week! The contest was probably one of the most challenging I've ever faced since the level of female wakeboarding has never been higher. Especially Giorgia Gregorio impressed me a lot!
The day before the finals the organizers put on a special event for us. I was thrilled to get selected to participate and I ignored the fact that my ankle, which I twisted one day before leaving Texas, was hurting quite a bit.  I went out in the semi final but on my first jump, I landed a bit harder than I expected and i immediately felt that something had gone wrong. I tried to finish my contest run but after screaming in pain in the water I crashed out on two tricks and didn't make it straight to the finals.
Now I was faced with a pretty hard decision: Do I keep competing in this extra event through the LCQ round and risk not being able to ride the European finals or do I give up and lost the chance of the 2000 USD cash price? In the end for me, money is just that: money. I decided to give my ankle the chance of rest and had a big lump in my stomach as I told the judges I wouldn't be competing again during that same day. Spending the day elevating and icing my ankle I prayed that it would feel better the next morning, the time of the finals. I was wrong.
On saturday morning I woke up feeling quite cheerful, that was until I tried to walk to the bathroom and I noticed that my ankle was even worse than the day before. Super disappointed I skyped my dad asking him what to do: I didnt want to risk the rest of my season by riding the finals but at the same time, I got this far! I didnt just wanna give up. In the end I decided to give it a go but to throw the handle if I felt too much pain.
I was pretty nervous that morning and made my poor team mates drive me to the arena two hours before my division. Once there I found the french teams physio Axel, who had helped me make the decision not to ride the previous day. He helped me tape up my ankle so much it felt like I was wearing a cast. In some angles it still hurt but I was thrilled to discover I now could put weight on it without whimpering in pain. It had one downside though, after about 10 minutes my foot started to go numb so I had to prance around the site to keep a steady blood-flow going. Again Axel looked at me with a worried look and said "If it hurts, you stop okay". "Okay" I answered, and in my mind I had some doubts that I actually would keep this promise.
Once the women's finals was up, I had the advantage of starting last, as I had won my semi-final. This usually is good because you can look at the other riders and plan your run. My problem is, I get way too nervous if I do that. Instead I put my headphones in, looked the other way and zoomed out to some Taylor Swift.
When it was my turn, I asked the Swedish Team Manager: "How did they do?" and he just told me "Don't worry, you got this just do your thing". I put my board on, feeling like my foot wasn't part of my body, more like lump at the end of my leg but at least it didnt hurt. Then I was off, I had decided to make my decision after my first jump, if I should keep riding or not. Nervously I cut in towards the wake and actually got booted even higher than I was expecting. Its amazing how much time you have to think as you are floating through the air that split second. I was wondering "is it gonna hurt? Am I going to blow my ankle now? I should've taken it easier. oh crap…". I braced myself for the landing, not knowing what to expect and… …BOOM just like that, my ankle felt fine! Thrilled I kept moving on with my run, thinking one trick at a time and actually forgetting that I was hurt for a second. Everytime you land a trick in a contest run you get this rush of satisfaction and even though I did take an unexpected fall on a Moby Dick, I came back into the dock with a big smile on my face.
I had done okay! I did most of my tricks and I hadn't hurt my ankle!! As soon as I came in my friend Charlotte greeted me with "Yay Carro, Well done you just won!". It took me a few minutes to realize as I hadn't watched the others ride. I was honestly so happy to just be feeling okay that I would've been happy with any place in the finals and since I had taken a clumpsy fall, I was pretty surprised with the results. Charlotte came in a 3rd place having killed it and second went to Meagan Barker, both from the UK.
It wasn't long until a huge smile shone across my face and I got hugged by all my team-mates. I still feel like maybe it was all a dream, I can't believe I just won another European Title! Now I'm back home with some time to rest my ankle and be with my family. Thanks so much all my sponsors, my team mates and the Swedish Waterski and Wakeboard federation for all your support. And of course, a huge thanks to Axel for saving this contest for me, I don't know what I would've done without your help!