On thursday we landed at Perth international Airport at 10 pm and after getting picked up and driven back to the hotel in Mandurah. It was times for the 2013 Eyres Action Sport Games which is the first stop in the World Cup for us. At 2 am my head hit the pillow after a long 14 hour flight from Bangkok.
The next morning we woke up and went to the riders area for Breakfast. It was great seeing everyone again, and after an amazing Aussie breakfast we went for our practice runs. The course in Mandurah is really tough with hard wind, a strong current and a lot of backwash so the practice runs resulted in most riders, including myself having to change their passes to a safer one. I felt pretty good in practice and even though my ankle still is bothering me with a bunch of tape and a lot of cranking it down my binding it didn't talk back too much. Something really cool about the course was all the dolphins hanging out in it. I don't think I've ever wakeboarded with Dolphins before.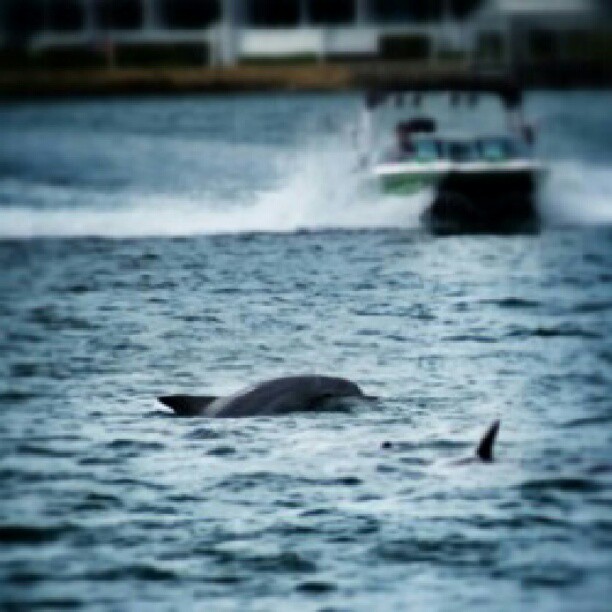 Photo: Lucas Langlois
That night we took it pretty easy with a BBQ by the pool back at the hotel and an early night for the Semi's the next morning. After a quick riders briefing where we got told the usual: Wear your lifejacket and helmet, after your second fall you are out and DO NOT ride under the bridge since the current is so strong it will sweep you out to the sea and you will get disqualified we all headed to the starting dock. The heats got posted and all of them were so hard. I got Australian Champion Bec Gange in mine, along with European champion Sian Hurst and young riders Chloe Mills and Yun Heehyun who both have been throwing down lately! Not that the other heat looked any better with raining Champ Raimi Merritt and Nicola Butler amongst others.
I was seeded to start in the middle of my heat and I've found that I get more nervous when I watch the other girls ride so I zoned out to myself and tried to think about other things. Out on the water I started my pass okay with a sketchy rail hit, a tantrum, scarecrow, backroll and toe 5. While the boat was turning to get back for my second pass I could feel how rough the water was and when I edged in for my first trick in the second pass I could fee immediately that I was about to fall. Getting dragged by the current halfway down the course didn't do much to improve the feeling in my chest and after getting picked up I did the same trick again, a toeside frontroll and crashed again. Convinced that the other girls had beaten me I tried not to be too disappointed about not making it to the finals but it turned out the rough water had effected everyone and my pass gave me the win in our heat! Bec Gange was unlucky too and fell on some, for her, super easy tricks but she was the other rider in our heat making finals straigh away. In the other heat, Raimi Merritt rode so well and qualified first with Nicola Butler as the runner up. Unfortunately the young rider Yun from Korea had an amazing run but she did ride under the bridge and therefore got disqualified from the competition. Such a shame since she probably would have placed really well.
Next up was the guys and wow, was the level impressive! I was of course holding my breath and wishing David Coates the best of luck as he was up and the rough conditions got to him too and unfortunately he didn't make it into the semi-finals. Since there are 10 invited girls and 20 guys they have to ride a few more rounds than us.
That night we got on a boat cruising around the little channels and watching some fireworks. The riders here are so much fun to spend time with and even though there was no open bar we managed to have a good time 😉 Since I've only been in a World Cup final once before (missing out the one in Indonesia) I went to bed early and also got up early the next morning for a quick yoga sesh before heading for breakfast. The guys semi's were up first and for some reason the officials had decided to change the course! Instead of starting with the rail, it was now in the middle of the course and the spot with rough water where I had crashed was right were my first trick would be.
I don't think I've ever been more nervous in a competition than I was in this one and after watching Bec Gange throw dont an amazing pass I put my shaky legs in my bindings and went on the water. The first thing that happens in my run was: I crashed. Lying in the same spot as I crashed in the Semi's all the plans I had made for my run went out the window. "Oh crap, oh crap" was all that was running through my head and wen the boat picked me up for the rest of my run I had no plan what to do next. Trying to get as many tricks in my run as I could I started improvising and amazingly stood up the rest of my pass! When it came to my wildcard trick I decided to throw a whirly, even though I have been struggling a little bit with them after hurting my ankle and as soon as I took of the wake I could feel that it wasn't going to work. Still, when I came back to the starting dock I had a big smile on my face and I was so happy about my recovery run. The last rider off the dock was Raimi and she started strong with a huge raily and a frontroll but then she did one of the worst crashes I've ever seen in wakeboard with her S-bend. I am so impressed with her continuing her ride after falling that hard and not even flinching before throwing another S-bend and sticking it super clean. Unfortunately Raimi did take a second fall which made her get into 4th place.
I couldn't believe when I heard Ambers voice in the speakers announce that I'd gotten 3rd place, right after Nicola and Bec. Big congrats to both my friends for amazing rides, especially Bec who took her first World Cup title! The rest of the day and night I walked around with the biggest smile on my face and I still can't believe I got to stand on the podium with two of the biggest names in wakeboarding.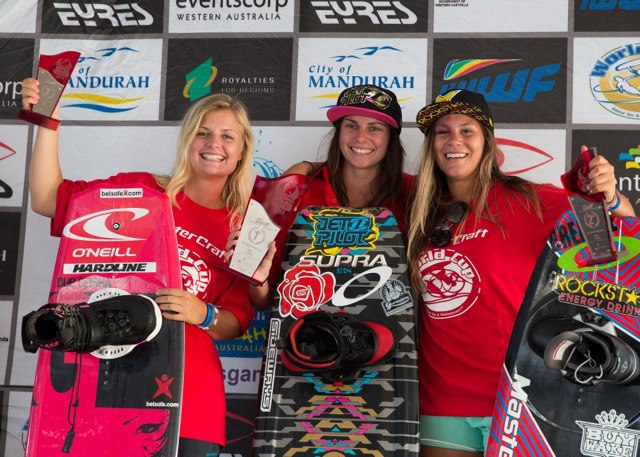 Honestly, I missed most of the guys rides while celebrating with Bec and Nicola and all the European riders in the Riders Lounge but I heard it was crazy. Shota Tezuka from Japan came close to doing what most of the guys have been trying to do for the past 7 World Cup Stops: To beat Australias Harley Clifford. But Harley rode strong like always and walked away with the win, Shota in second and Daniel Powers in third. Big congrats you guys too!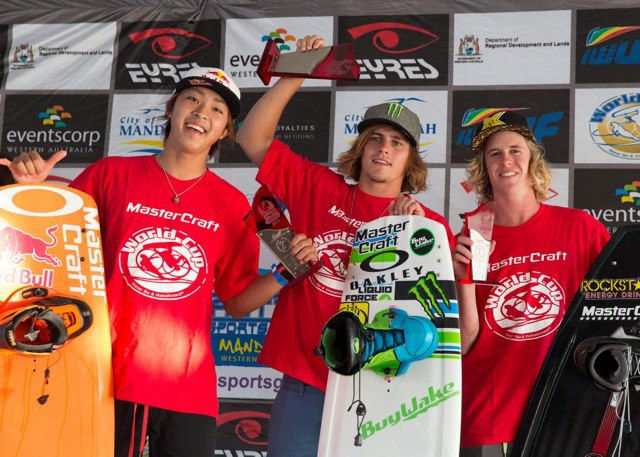 It's been an amazing trip and I'm so happy with my result, especially since I hurt myself so close to the stop and was unsure about even riding in it. Now I'm heading home to minus 3 degrees and a physio-team checking my ankle up for me.
I can't wait to see my family!
Thanks all the organizers and friends for this even and thank everyone at home for your sweet comments. I'm over the moon right now and not even the 27 hours flight trip ahead can bring me down 😉