So stoked on this new ALL GIRLS video from CWC in the Philippines! Check it out, its filled with riders from all around the world and so inspiring to watch! Thanks you ladies for all your motivation and for all the good times on our trip!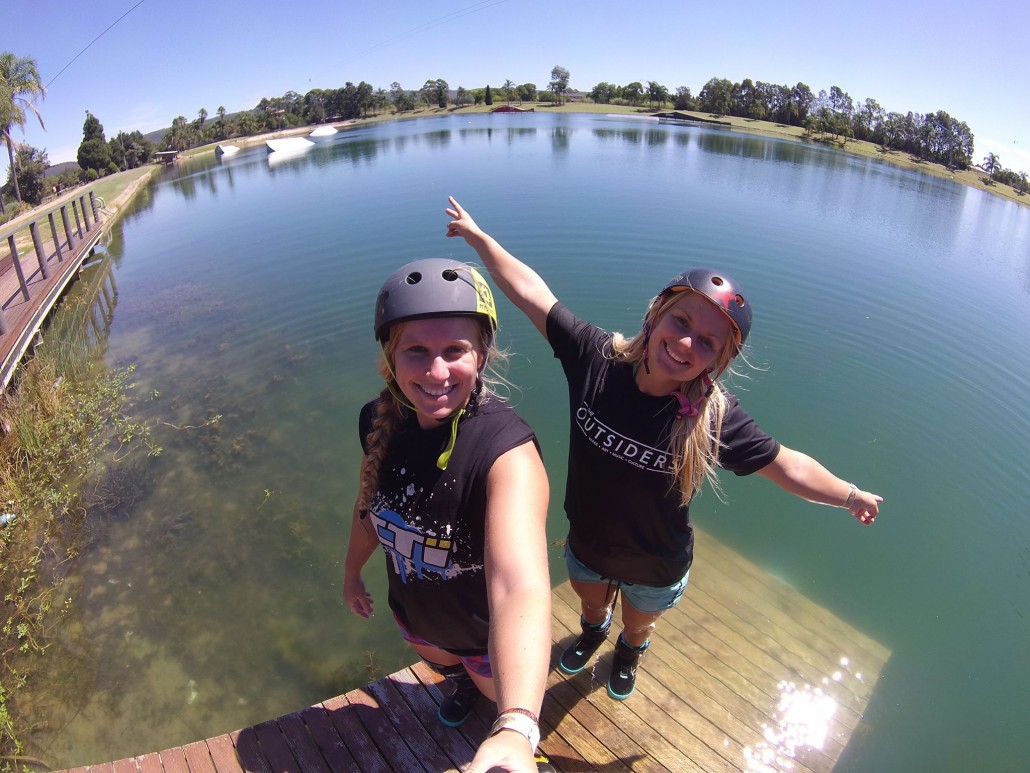 Spending my time, surfing and getting ready for the World Cup with these girls. Getting back to Australia after spending a month in Asia feels like traveling through time to the future. Not being used to the accessibility of luxury items such as groceries with labels that we can understand, toilet paper and drinking water straight from the tap has made me a bit socially awkward. Slowly I'm getting used to being back in a world where the WiFi is fast and the boys are pretty and I'm so lucky to be surrounded by so many amazing people. At the moment we are staying with Hayley and her mom on the Gold Coast spending our days surfing, drinking flat whites at cafés and the other day we did a super fun lifestyle shoot with one of Hayley's friends for Wake Mag. Hopefully I can show you some pics soon!
Tomorrow we head up to ride with Harley Clifford and his X-star to get some last practice before flying to Perth and the contest on Thursday night. I can't wait to get back behind the boat!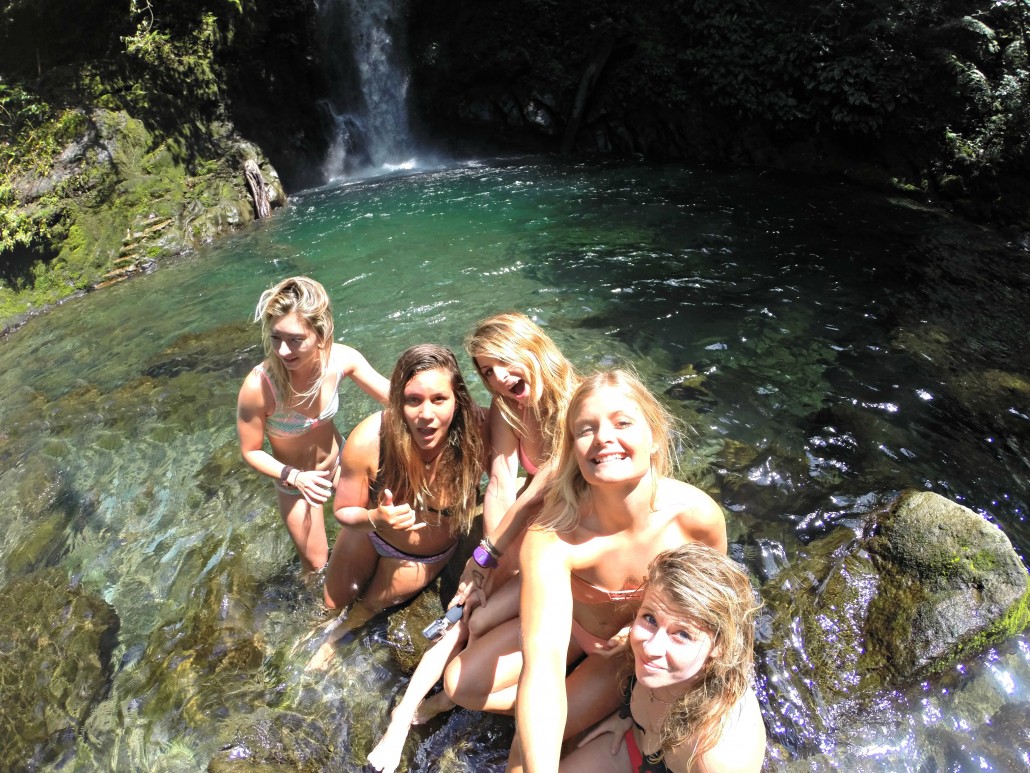 Today we decided to sleep in meaning that we woke up at 7.15 well rested and ready for new adventures. After watching the girls ride a couple laps and letting my body rest while working on some emails we all jumped on our scooter for a girls-trip to the waterfall close by here! It was so beautiful and the water so clear (but freezing cold!) and we did have some unexpected encounters with two leaches which tried to snack on Mel and Nicola. Luckily they never had time to latch on and after a minor freakout with about 7 of girls screaming like umm, well little girls we got it sorted
Many of you have wondered where my yoga-pants (aka Wakepants
) are from. Recently I got in contact with the Swedish Company Aim'n Sportswear who are now offering all of you 20% off any leggings by using the code CarroLovesAimn on their website! I'm absolutely in love with their prints and I'm so stoked to be able to share this discount with you! The code will be valid until the 22nd of Febuary and they ship worldwide!!
Happy shopping
xx
The water here is so blue so I had to cruise around with my Gopro a bit and the shots turned out so cool!
What a crazy start to the year! Thailand for a month and now Philippines. Contracts with sponsors to get sorted out, competition plans to be made, travels to purchase and new goal so pursue.
With plans of redoing my website, my blogging has taken a step back  but with the internet here in Asia being slower than a snail racing through peanut-butter it's taken longer than expected. So, here's a quick update for you while we continue to work on the new one!
I've traveled with Nicola to the small village of Naga in the Philippines after spending four weeks at Anthem Wake Park in Phuket, Thailand. We loved staying there with such  great atmosphere, cozy little restaurants and white beaches. Check out the travel guide Nicola wrote for The Outsiders Online about our trip.
Being here at CWC has been incredible. With so many opportunities to learn and so many inspiring people I can't think of a better place to be right now! We've both progressed so much and the more cable I ride the more I love it!  I think this year I will be trying to enter as many cable events as I can along with the boat ones.
I don't think I've ever been more excited for a season to start!!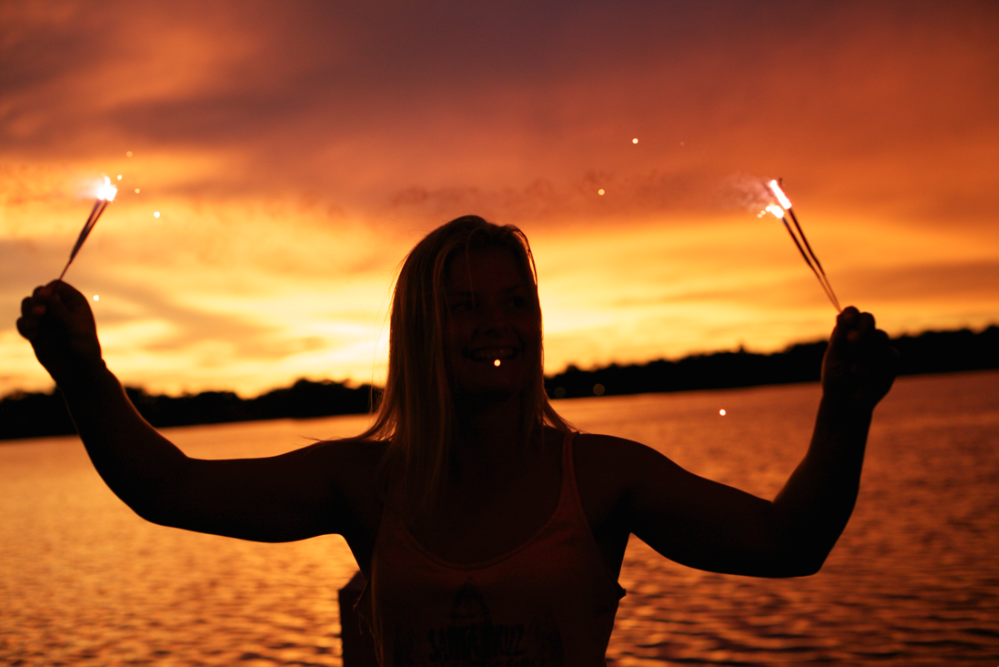 Every year on January first people feel different, hopeful, a chance for a fresh start. New year equals new beginnings and the motivation this day brings is incomparable to any other day of the year.  If you think about it this day is not different to any other day, the swedish mist is just as present, the temperature just as low and the hours of daylight the same as yesterday.
Still on this day the presence of the word change lingers in the air so strong you could almost touch it.  As I woke up early at my friend Hanna's apartment in Gothemburg and made my way through the almost deserted streets to catch a train back to Stockholm I couldn't help but feel the same kind of feeling myself. Normally I'm the kind of girl who would say something like "Why do you need a new year to change something when you could do it on any day?" but the feeling I felt today is not about change, not about some new years resolution that is supposed to make me skinnier or richer. What crept upon me this morning was a feeling of excitement for what 2015 will bring, a desire and drive to do good things and to grow.
For me 2014 was my favorite year yet (Although I guess I say that every year… Okay maybe the year when I turned five was pretty good too since I learnt both how to read and how to ride a bike). The past year was my first doing what I've been wanting to do ever since I was 13 and first picked up a wakeboard: I got to spend a season in America. With my heart filled with expectations of what the summer would bring I returned to Europe in October having reached more than I could ever have imagined. Both amazing things in the form and shape of new tricks, new friends and an understanding about the wakeboarding community but also with ends of relationships, injuries of friends and a lot of unpleasant but very useful life experiences.
I can honestly say that I'm proud of what I've accomplished this year and I thank my lucky star every day that I am able to live this life. I am so grateful for the continued support of my sponsors and the motivation they give me by pushing me to become a better rider, athlete, person and for my family who always supports me in my dreams, even though my dreams are so different to "the way you are supposed to do things".
Hopefully I managed to share and spread my feeling of motivation this morning, I hope you have a wonderful start to 2015 and thanks for reading my rambling though!
So excited about this new edit I shot with JB O'Neill during the past few weeks. I've never produced a "serious" edit before and I couldn't be more stoked on how it turned out. Thanks JB and all my sponsors, now check it out!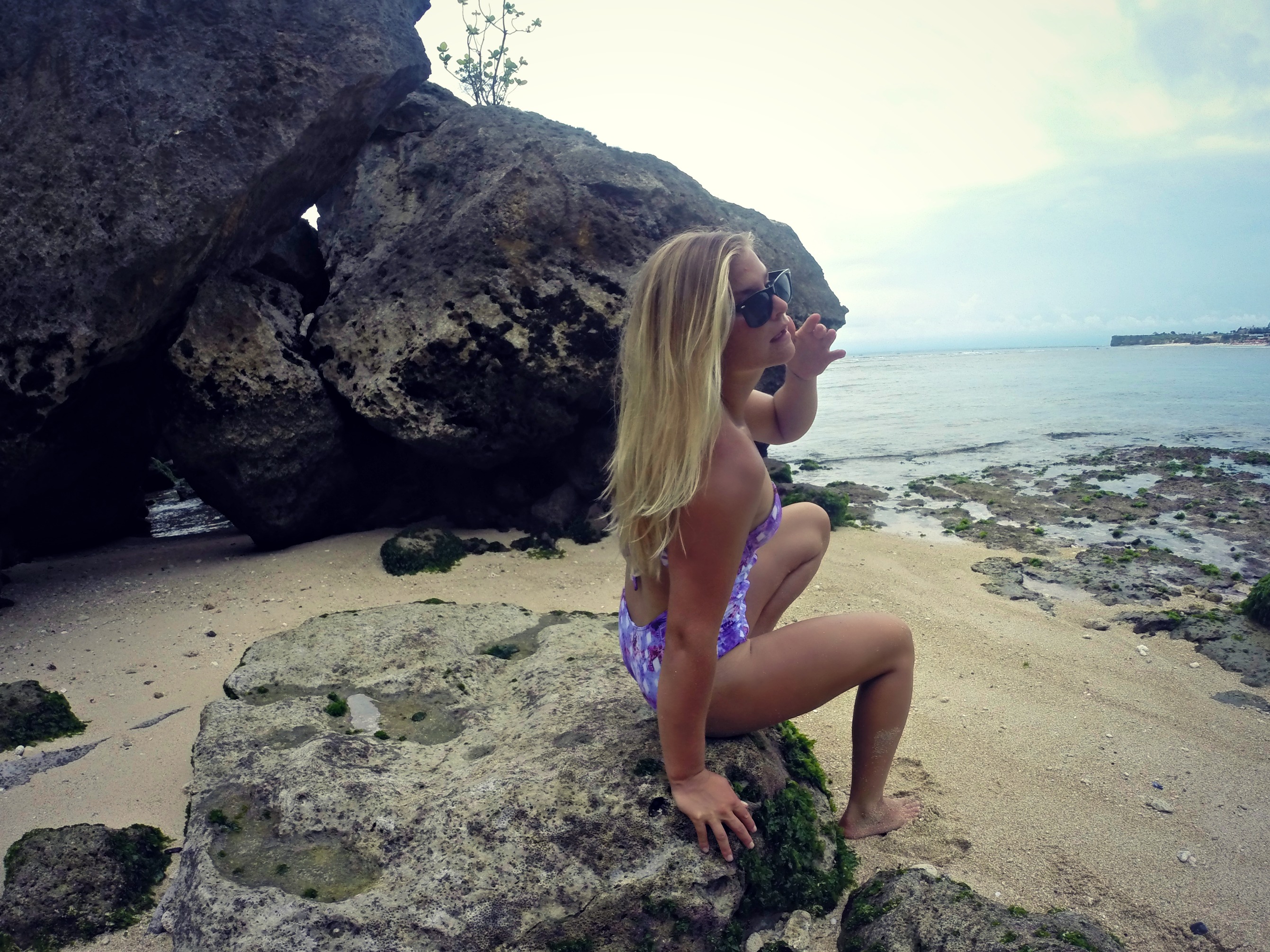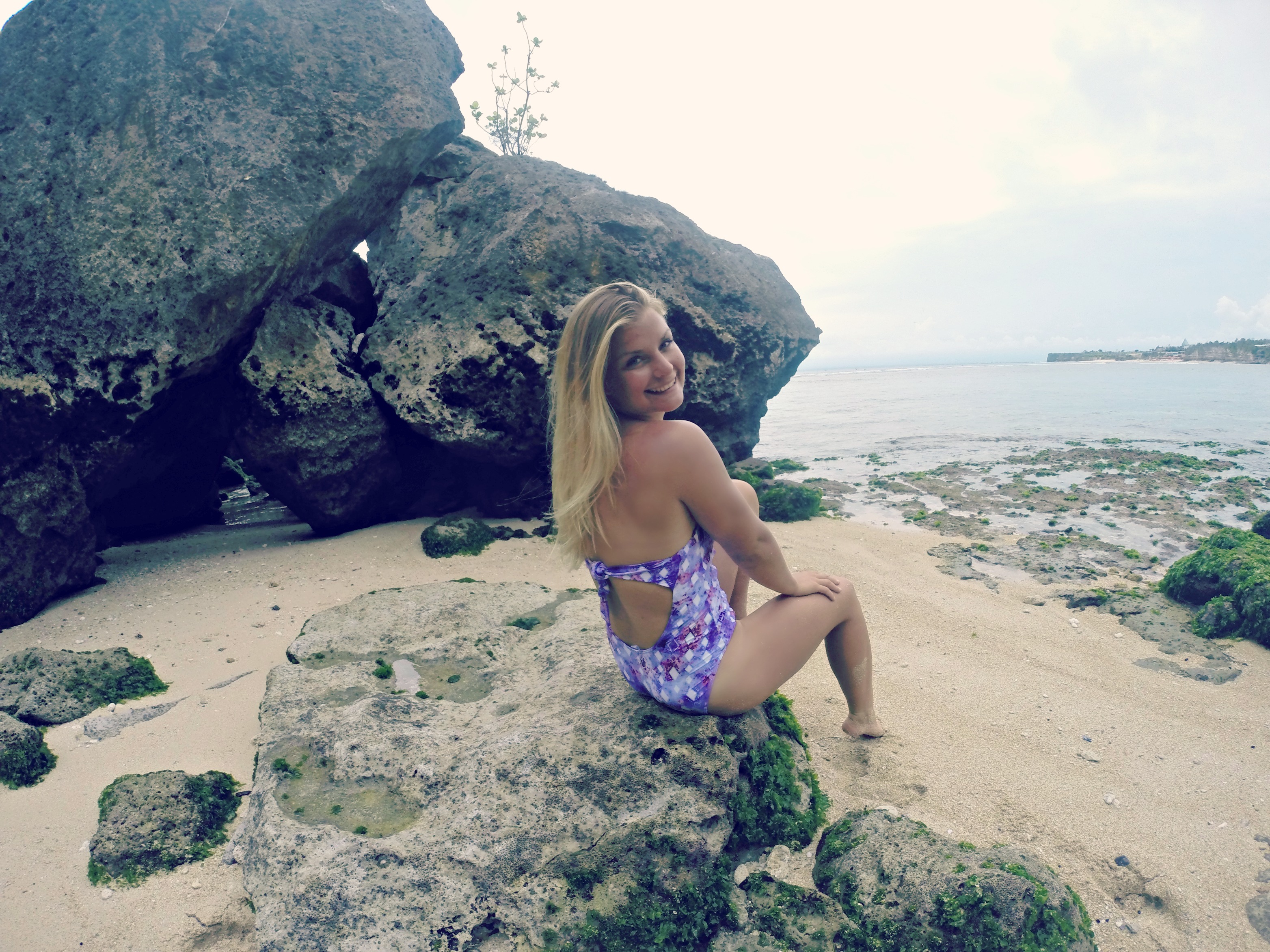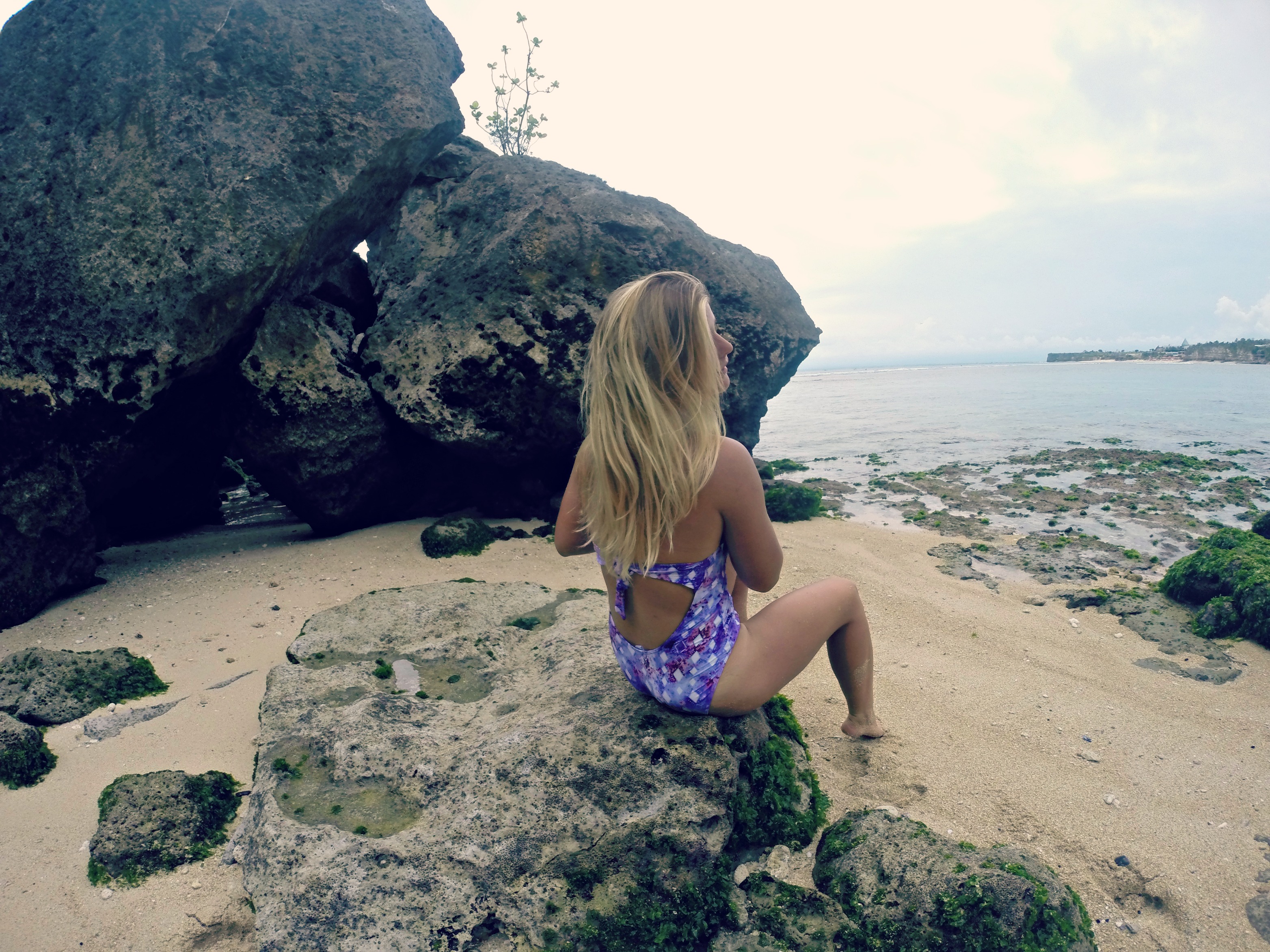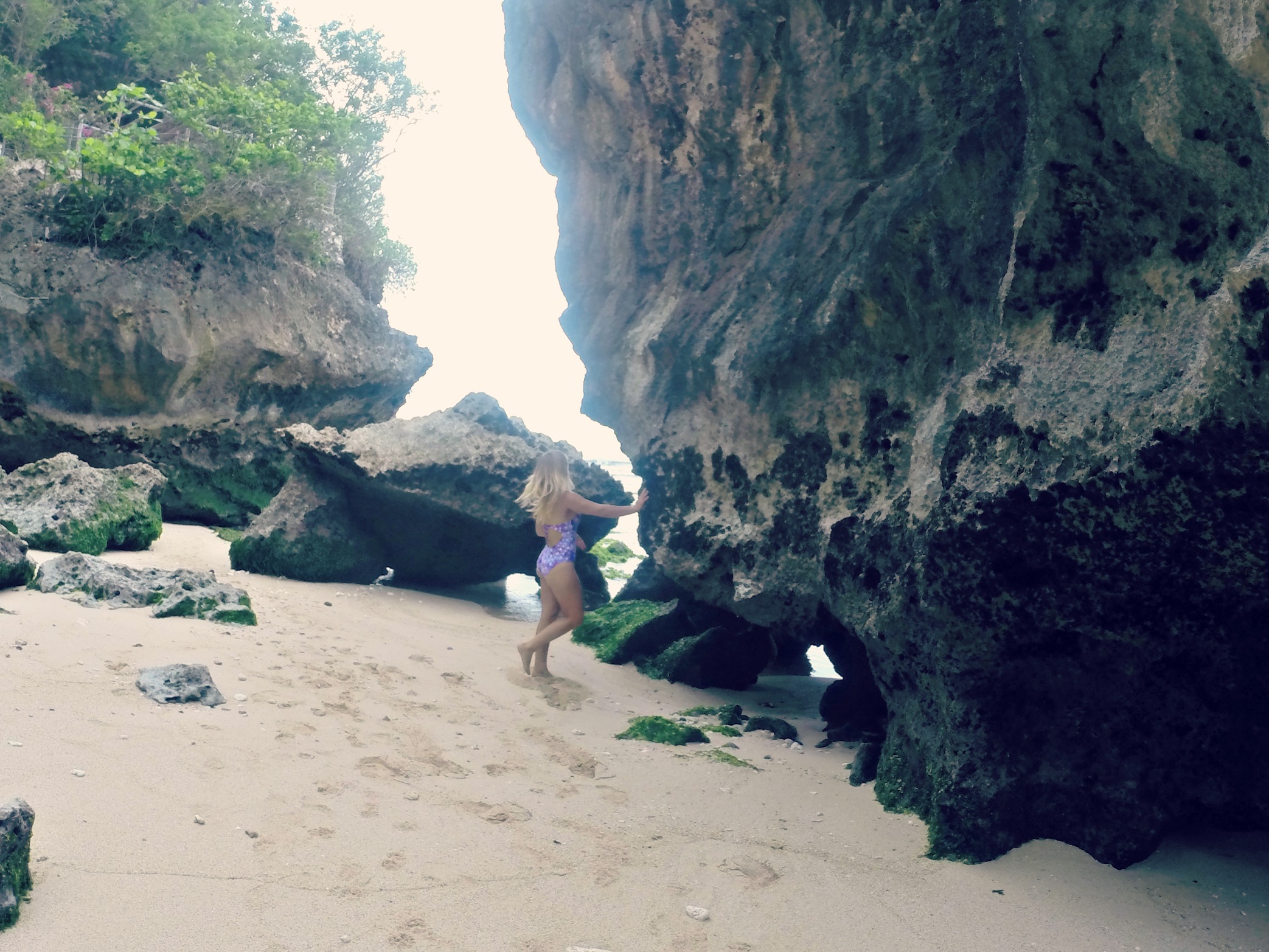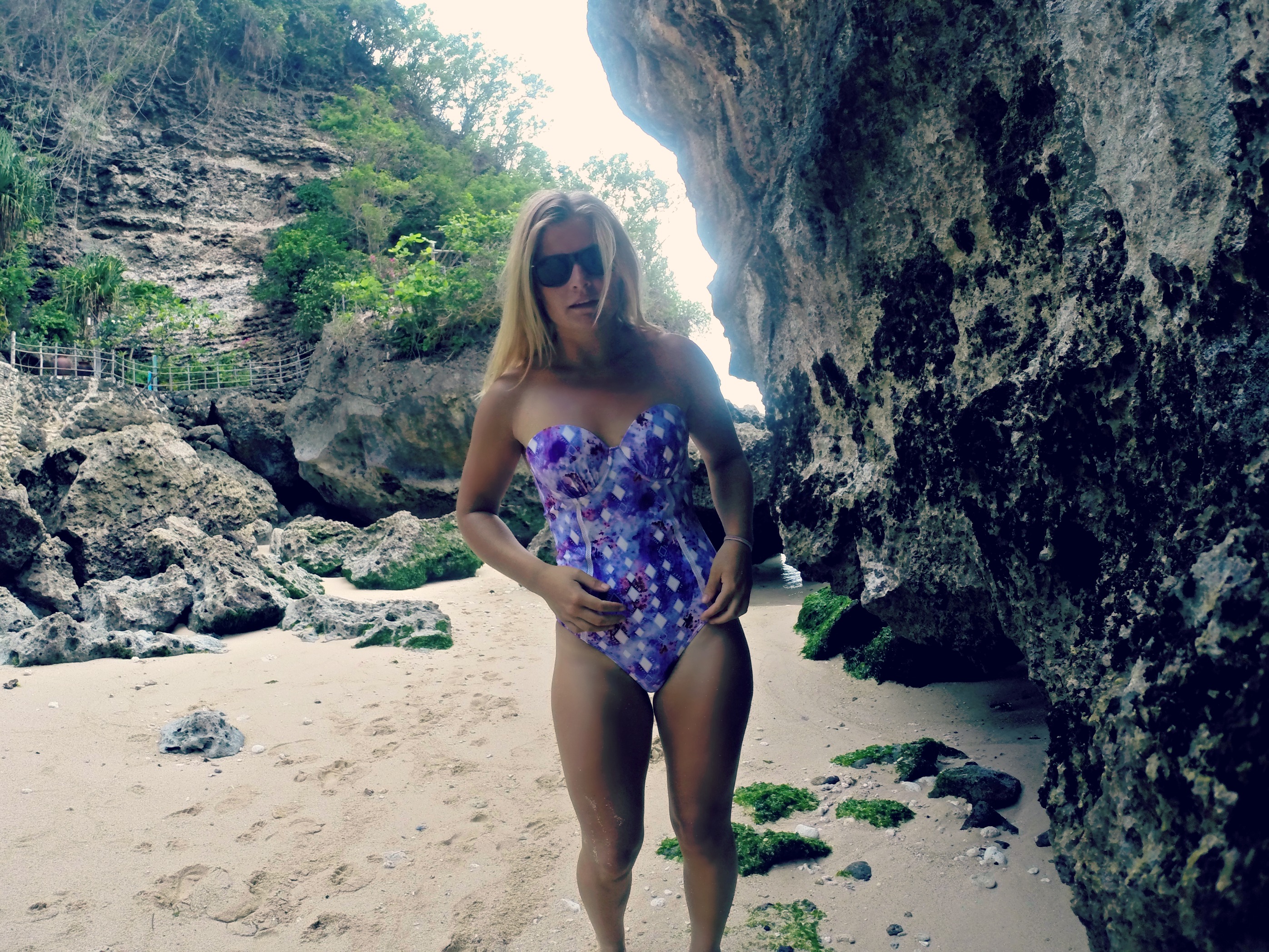 Decided to go on an adventure today and scootered around the island for about an hour until I found this little secret beach. I love these cloudy days in Bali as it makes the temperature not too hot and I don't get as sunburnt as I otherwise do. There are so many beautiful places to discover and A LOT of stairs to walk down to get to them. Anyways, I enjoyed this one
Bathingsuit by O'Neill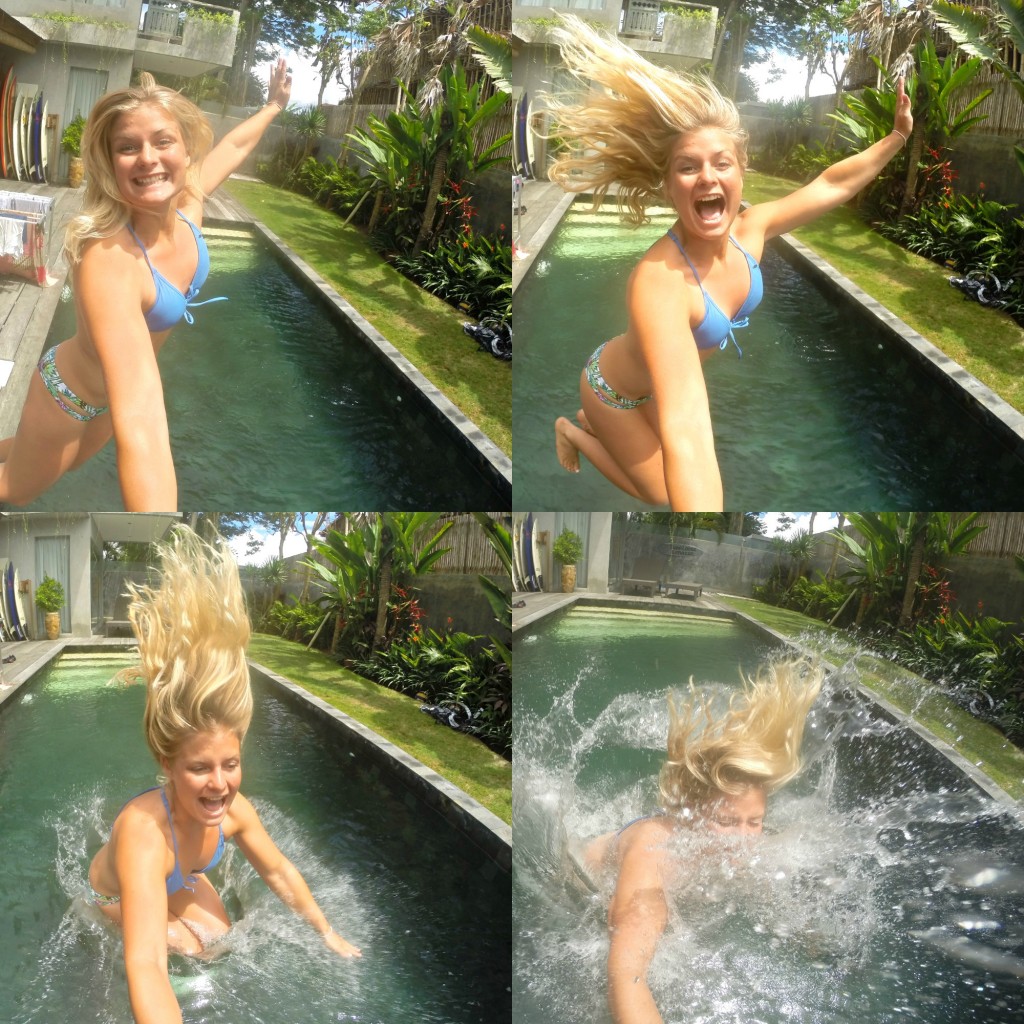 Now I've been in Bali for nearly two weeks and I'm almost starting to feel indonesian
While Anja and Pelle has left, two new surfers have arrived and even though I miss surfing with my Danish-friends as we were on the same level, surfing with these new guys is an awesome challenge. Having surfed for almost as many years as I have walked this earth they chose a bit harder breaks and bigger waves. The good news is that I'm turning pro on getting smashed as I repeatedly keep getting stuck with my big board in the impact zone (I'm now surfing a 6'8 so its my first "short-board"). Other than surfing I've definitely gone into relax-mode. Spending my days reading books at the pool, ordering my favorite food at the local restaurants and drinking coffee while waiting for the tide at the different breaks. Bali has so much to offer and I am grateful I get to spend almost a month here, even though I sometimes wish I would've brought all my family and friends with me
"Taxi, miss? Taxi yeah? Where are you going, Taxi?"
As I dragged my massive board bag through the airport and covered a yawn with my hand about a million taxi drivers were fighting each other to take me to my destination. As the time display on my phone was showing 2.30 am and the message "no service" was flashing across it I made my way towards the back of the people eagerly searching for the one person who would bring me to the fluffy pillows and the dreamy white sheets that was the one thing on my mind. All of a sudden I saw my name on a sign and, as my eyes traveled upwards, two rows of smiling teeth greeted me: Ketut! Even at 3 am the cheerful driver was chatting happily and telling me all sorts of gossip as he loaded my board bag into the welcoming air-condition of the minivan and started zigzagging through the Balinese traffic. By 3.30 am I reached my goal, thanked Ketut and crashed out as soon as my head hit the pillow.
The next morning I woke up with butterflies in my Stomach and went outside to be greeted by a house already full of movement. Surflodge Limasan looked even better than I remembered with the big lofty spaces, dark blue pool and the little palm-trees that Gabbe had planted when I was here last was now a full blown jungle full of colors and flowers. The rest of the house had already been awake for an hour as they had a morning yoga class and now they were all getting ready for breakfast. I took my seat and sipped on a fresh mango juice while listening to the chat about where the best surf would be today. Before I knew it was was sitting on a scooter, a board strapped to the side of it and heading for the long white beaches for my first surf in almost 10 months!!
Surfing is so much harder than wakeboarding and I have so much respect for the ocean after getting crushed so many times in the impact zone. The waves were pretty big but also really nice and round so I caught quite a few and after a few hours when my arms stopped working even though I tried to encourage them to "Come on, just one more wave" I had to reluctantly give up and paddle to shore with a big smile across my face. After a BBQ dinner back at the house and a bit of worry on how I was supposed to get out of bed the next day I fell asleep with the same smile on my lips. It's going to be a good end to the year!
The past two weeks in the Philippines has been amazing! I've heard a lot of great things about the cables over here and it has been a destination I've been wanting to visit for a while now. Myself and Nicola actually had planned to go to CWC (Camsur waterspout complex) in February but when I was discussing my winter plans with Monster and they told me they could help me get here now too, I jumped right on it!
We've been so well taken care of by all the nice staff at the park and since I've recently discovered a newfound love for rails, it's been a great park to learn on. For me rails is the fastest way where I progress at the moment, and progressing is one of my favorite aspects of wakeboarding. There's nothing like that feeling of landing a new trick and with the help of JB I've been pushing my riding a lot.
My first ever trip to the Philippines was a success and now I'm getting ready for a solid month of surfing to recover my body and get ready for next season!
I think one of my favorite things to do besides wakeboarding is diving. I don't have my divers license yet so for this trip I had to settle with snorkeling (even though I am planning on getting my license at some point). I love the colors, shapes and sounds you experience under water. This trip was a bit of a surprise to me as when we got on the boat at Panglao and headed about 45 minutes off the coast to another island with white beaches, palm trees and crystal clear water. The island looked like out of a movie and after smashing a coconut we headed out for our snorkeling adventure. Seeing right through the water as we came into the island I felt a little disappointed as the snorkeling looked pretty average but I was still stoked to get into the water as the sun was blazing and making me super hot. Imagine my surprise when I discovered that we'd been taken right to the edge of a big reef and the world which opened up beneath us was like being in outer space.
The pictures we took doesn't nearly do it justice  as we were too busy diving down to look at the starfish, corals and we even saw a giant sea turtle! After spending two nights on Panglao at a hotel overlooking the ocean and ripping around on a scooter we've now moved on to Manila and Republic Wake Park. After two solid days of riding my muscles are screaming and I can barely get out of bed but it feels so good to be back on my board. Even though I love surfing and diving and chilling on the beach, nothing comes close to Wakeboarding
Having a very interesting trip here in the Philippines! So much has happened but unfortunately I do not have a lot of Wifi to tell you about it so the stories will have to wait. After a couple of days shredding with JB O'Neill at Cebu Wake Park I am now drinking coconuts on a beach on Panglao Island. More updates to come soon but everything is good!
So excited to be this weeks "Angle" in Wakejournal with this shot my friend and very talented photographer Bradlee Rutledge took this summer back in Orlando. So excited for my friend Lior to get the cover too!
Get the app and read the issue here: LINK