Just have to say, I love being in Australia for my rehab!
Even though I've gotten to watch my friends board with help getting in and out of the boat, even though we almost sunk a boat, I love being here and spending time with these guys so much. (Even if they do tell me the forecast for surfing looks awesome, do I want to come?).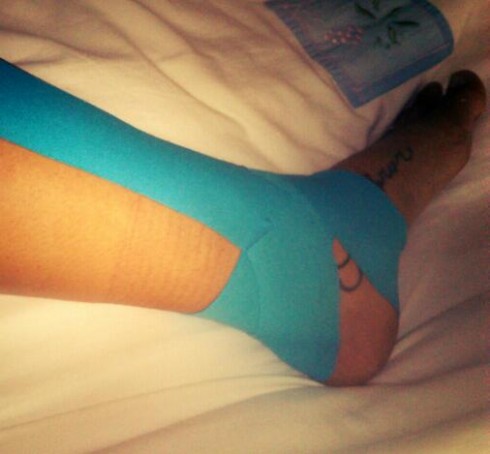 Rocktape!
I've seen a physio here a couple of times now and she's great. We've been working mostly with there-bands and balance exercises to get my anlke back in shape. A couple of days ago I could start putting weight on it so now I'm walking without my crutches! We've been going around touristing on a night trip in Moon-lit sanctuary where D got to see his first Kangaroos and Koalas. Also, we've been to lake Eildon to celebrate my friend Mitch's birthday, we've been at lookout points, on Philip Island and in Mornington. I feel like a tourguide showing him my favorite places and we have a big white van which we also sleep in sometimes so its perfect!
So yeah, I love doing my rehab here in Oz especially when my physio tells me, my training for next week is to walk on the beach ♥