Good morning! I'm a little jetlagged so I keep waking up at 6 am (today I slept til 7) but I actually like it. The morning is my favorite part of the day. Today I could barely get out of bed though since yesterday was my first time riding in a while and wow, did my wakeboarding muscles protest! I feel like I've grown some completely new abs and my arms definitely popped one size bigger today.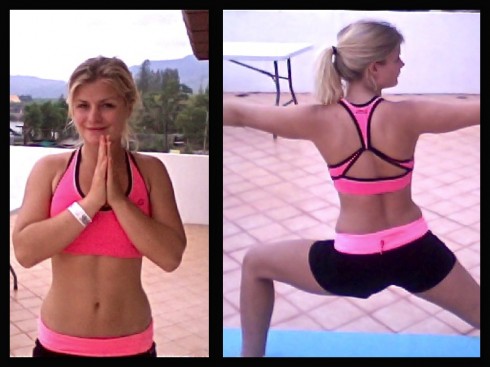 Namaste ♥
Yesterday was such a great first day though. Waking up at 6 I grabbed my yoga mat and went up on the roof for a little good morning routine. Then Charlotte woke up so we had breakfast (yoghurt and fresh fruit) before walking the 300 meters to the cable. Since it is a brand new 6 tower clockwise cable they haven't had time to build all the obstacles yet but they have a crazy kicker and a tabletop. Since I hadn't ridden in so long I barely heard what the very nice thai staff talked to me about as I signed the waiver and got my wristband. Put my bindings on and jumped out on the water and after half a lap I crashed off the kicker. Took off my board and ran back to the dock with a big smile on my face and did another half lap before I crashed again. Just playing around riding doubles with charlotte getting my airtricks back and trying my ankle out was such a great first hour of the day! Then we decided to get back to their system 2.0 and learn some new tricks. Riding with her really pushes me and we started to try this trick that we both want to learn. After a couple of cartwheeled faceplants and hysterical laughs I decided to commit to it and guess what, I learned a new trick! (even though I cheated a bit and threw it in the corner of the system) this was the trick I thought I would have to spend all trip trying but sometimes things just click and it wasn't as hard as I had imagined. Charlotte came so close to the same trick so I'm sure she will land it today and then she'll keep pushing me to take it to the full size cable. Like yesterday when I told her I'd love to learn a backmobe and asked her if we could practice those on the 2.0.
"Nah, you just got to do it on the full size cable, man up and take a back edge"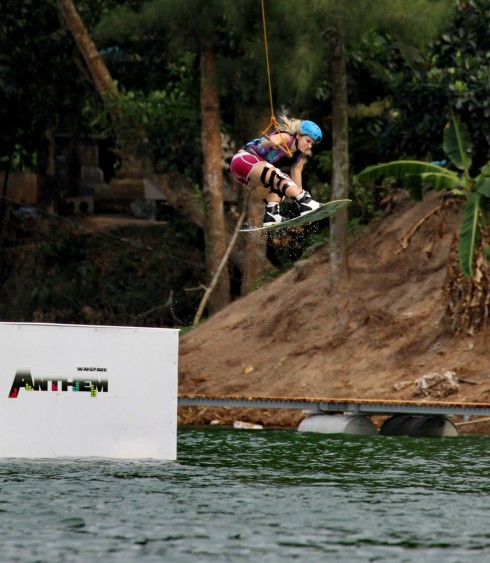 Charlotte of the kicker
Yeah, do I need to say that she is hardcore? It's so much fun getting pushed though since I've been stuck in my comfort zone for a while. After taking a lunch break and ride a bit more our arms we're telling us to stop so we headed back to our apartment, passing by a little local marked as we went. There we showered and got ready for the night which ment a promo beach party for MILF sunnglasses (Made In La France, what did you think it stood for) After laughing a bit at the name and enjoying the free drinks while representing Anthem Wake Park along with Lior Sofer and his girlfriend Hanna, my jet lag started to hit me again. So I asked lovely Rebecca Leek who's been taking care of us here if I could go back home and sleep. After hearing the others comments about being a party pooper and them teasing me about it.. I still went home and went to bed at 10 pm. (: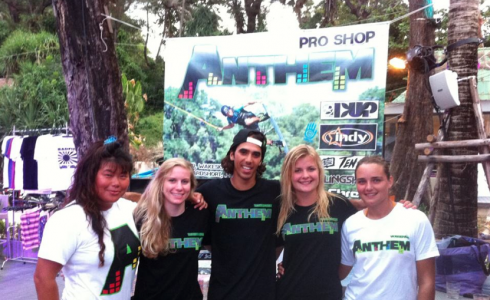 Today is a new day and I can't wait to hit the cable! Even though my abs disagree, time for morning yoga again after finishing this post for you. Oh and guess what! I can now call myself Auntie Carro! My brother and his lovely Madeleine just had a baby boy! I woke up to photo's of him and it made my eyes full of tears, such an amazing thing and the cutest little boy! Big congratz to you both!
Lot's of love
C