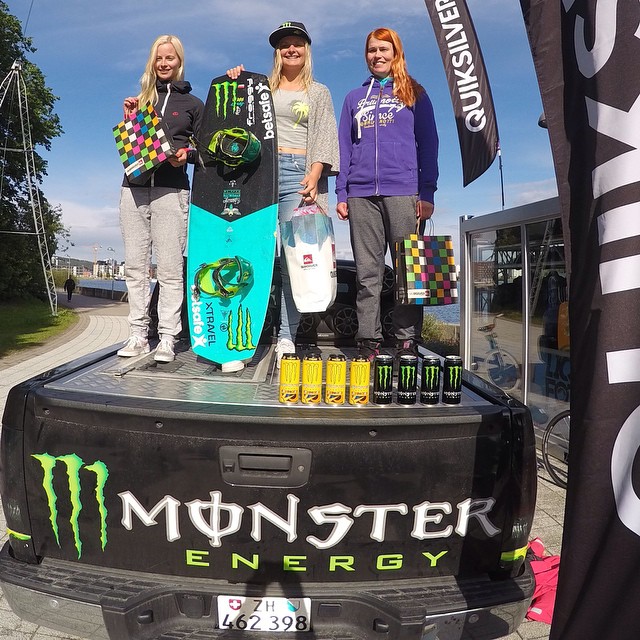 What a day! Yesterday I got pick up by Sami from Monster Energy and we drove out to Juväskylä where the second stop of the Wake Tour Finland was being held. We arrived right as the riders briefing was about to end with a bunch of riders already in their wetsuits ready to hit the water. I got changed and managed to squeeze in around 5 laps on the, very high, two tower cable before the women's competition started. I was surprised on how high the level was with the women and how many of them there were competing! In Sweden a lot of female riders don't like competing (I think because they put too much pressure on themselves) but in this event everyone was cheering each other on and the atmosphere was perfect! After crashing a lot, and laughing it off with the other chick I managed to put a decent contest run together and ended up taking a first place! Since I'd traveled so far to attend the organizers let me compete in the mens division as well and I was pumped on making it in to finals! Unfortunately my crashing spree continued as I knew I had to go all or nothing to beat the guys 😉 I ended up with a 5th place and big contrats to the winning guys, they all killed it!
Now I'm about to meet up with the local ripper Krisse who's a professional snowboarder and definitely made it tough for me to keep up with her rail skills!! We're hitting the cable here in Helsinki before I fly out tonight, back to Sweden!
Thanks Monster Energy for bringing me over here, it's been such a great experience discovering the wakeboarding scene in Finland! I'm amazed with how many cables have opened here the past few years and I'm looking forwards to watch the wake-community explode here in the future!