Hey!
Sorry for the days of no blogging, I've been living on a houseboat without internet for the last couple of days. Just got back from an awesome weekend at Doonstock, a wake-event similar to Liquid Force's Brostock in the States. Basically a bunch of people who love wakeboarding and drive their boats up to the same spot and then just ride, ride, ride! I wasn't supposed to go up there but I then the plans changed and I'm so stoked they did! Johnno (who's the reason I'm here in Australia) picked me up on friday night and we drove the 3 hours there. That night we stayed with his friends out on the countryside and being a city-girl I thought that was an adventure! Saw my first Kangaroos jumping along the car and got super excited!
We stayed with his friends out there and just chilled that night. They thought it was pretty funny that I got so excited about their everyday life so we went for a night-hunt where they tried to shoot some rabbits for eating. I fired my first gun! (Not on a rabbit but a target) I saw a wombat, so many kangaroos and lots of rabbits. Since we were out in the bushes we had to use flashlights to see and look for the reflection in the rabbits' eyes. One time we saw a huge pair of eyes and someone went "there's one over here" but then he got answered "no, thats just a spider". Then later that night I found a dead one of these in the bathroom…..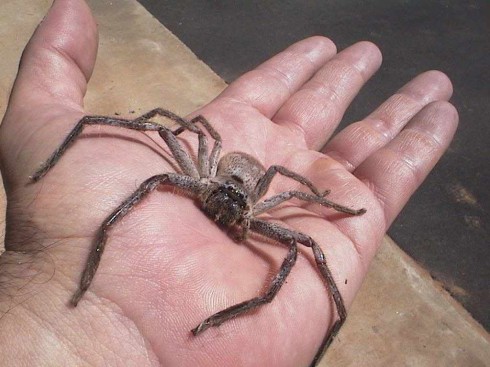 I feel like I have so much to tell about Doon Stock that it will take several blog posts. I can tell you this though, unfortunately I don't have any pictures yet since I met two awesome dudes from the States who wanted to make an edit with me so they used 3 GoPro's and one super camera to film and therefore have my memorycard. I bet the upcoming film will be sweet though!
Hold on, got to grab some food, will write another post soon! (: